Google My Business complements an organization's current brand website (s) by giving it a public identification and presence via a Google listing. Information about a business from Google My Business may display in Google Search and Google Maps.
Regardless of how consumers conduct a Google search, any third-party platform that uses the Google Maps API will display Google My Listings. As a result, optimizing Google My Business for SEO is a sector where digital marketing experts may surpass others in location-based marketing techniques. If you are providing SEO services, offering Google My Business Optimization is a recent trend.
What is the best way to optimize Google My Business?
New additions in Google My Business might help local companies enhance their GMB listings and rank higher in local searches with Local SEO.
While enhancing Google My Business listings has a direct influence on Google Maps results, it now now includes capabilities like adding categories, characteristics, uploading updates, direct messaging, the option to schedule Google My Business postings, and reviews Q&As.
It essentially performs the same functions as a conventional website, except all data is in Google, which is really great from a Local SEO aspect.
Follow these Google My Business optimization procedures if you want to take advantage of this. How to claim Google My Business listing?
#1: Verifying or claiming your Google My Business listing
If you have a Gmail account and followed the setting procedures to activate your Google My Business listing, you must still validate your GMB listing.
As the last stage in the GMB registration process, you demonstrate that you are the business's owner. The most popular way is through mail, because the other choices are only available to select firms. If you're eligible, you'll be able to examine the additional possibilities at this stage. You'll only see the postcard-by-mail option if you don't.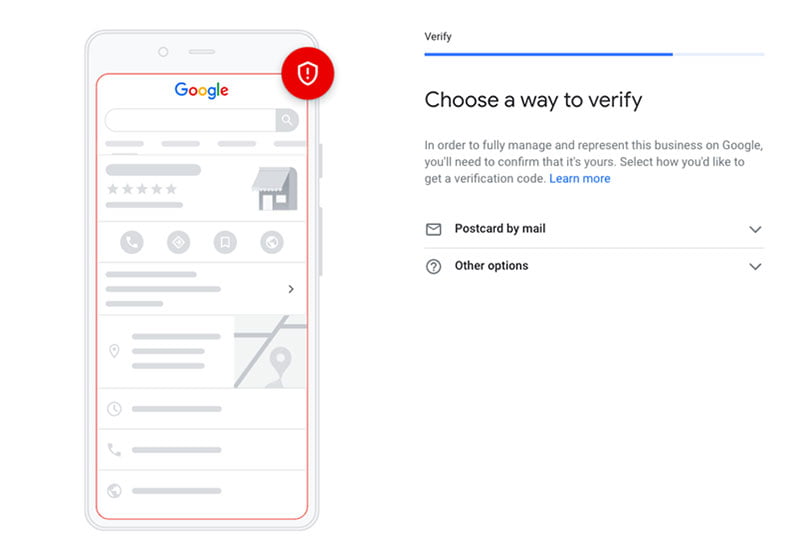 Google My Business Verification
Verification of through mail
A verification email should arrive to your company's address if you choose this option. It might take up to 14 days, so be patient. You may resort to choose alternative options because of Covid-19 limits.
Verification by phone
Some company owners may notice the option of calling to confirm their business. If you pick this option, be sure you're allowed to receive phone calls and messages.
Verification by email
Some firms will use this option, similar to phone verification. Here, you will receive an email with the verification code to your Gmail account, which you will then enter GMB. It's preferable if you've already validated your Google Search Console account to get fast text or email codes.
Because Google's attitude on claimed and verified GMB listings differs, they're crucial.
#2: Filling out all sections
When you arrive at the GMB homepage, turn to the left-hand-side option to begin Google My Business optimization.
In the Info section, fill out all info needed and do not overlook details. All is for improving local SEO efforts and to rank higher in local search results.
#3: Categorize Your Company
This categorization is an essential step. Because based on your category, you may pick qualities, deliverables, and other associated service facilities.
Under your company name, you'll notice "categories."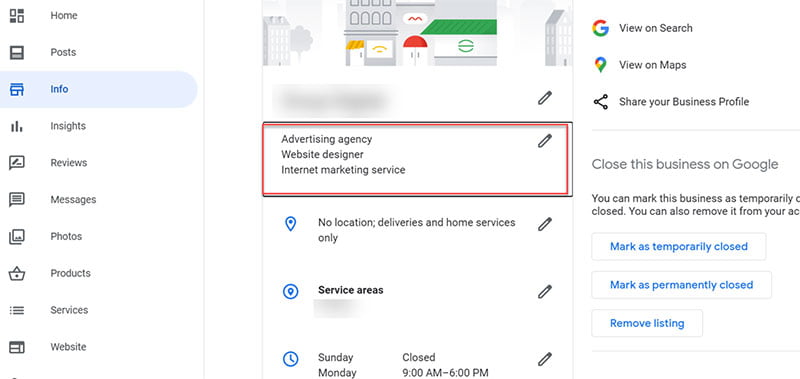 While you can choose your main niche, there are sub-categories to tell what you do with more categories.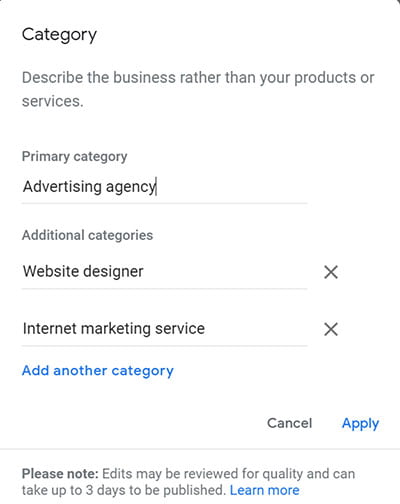 These categories will associate your business and local SEO search results with the user's search queries.
#4: Google My Business descriptions for Local SEO
Even if you don't have an "about us" area that may include additional information, Google My Business wants to include a quick description that is important for Google My Business Local SEO. On Google Maps, consider it like your Google billboard.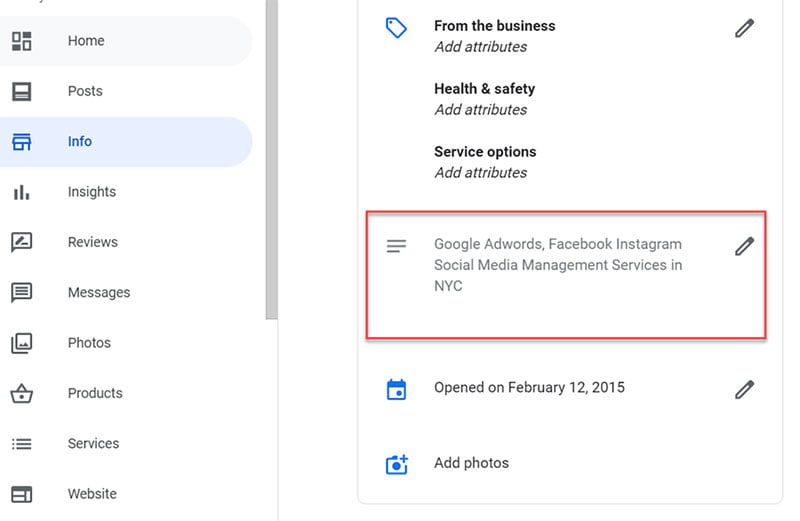 In your quick description, you might concentrate on employing related keywords.
Use each term with care, just like you would for your official websites on-page SEO keyword optimization.
You have 750 characters to describe your company.
#5: Fill in important links, contacts, and addresses using characteristics.
Working hours, website address, appointment address (if applicable to your business), and qualities should all show up in the "Info" tab.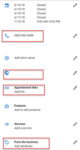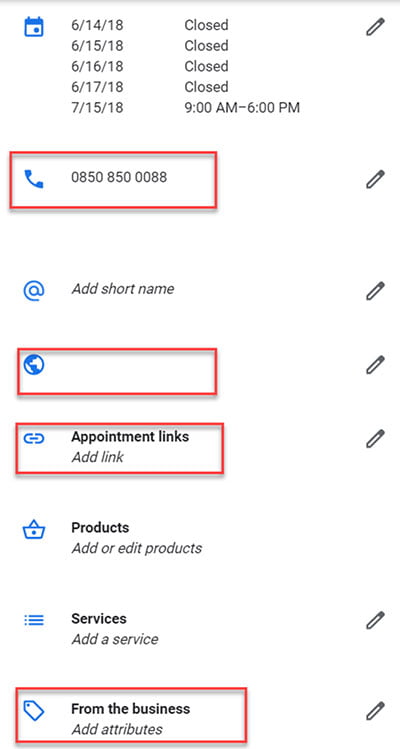 While Google My Business description nearly forces you to be accurate, Attributes, which is in the red box at the bottom of the above image. It allows you to provide extra information regarding the company and helps local SEO.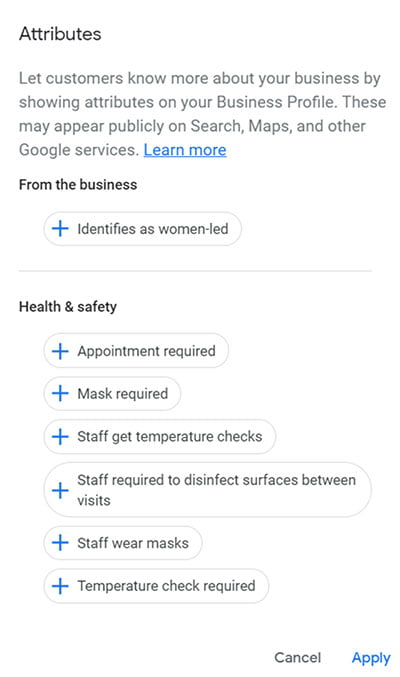 #6: Add Products and Services
You may add your items and services to the GMB listing in the same way that you would add them to an e-commerce website or a static website that offers your products and services.
This step will put you one step ahead of others that ignore this step for optimizing your Google My Business listing and improve Local SEO. How? People looking for that services and products will immediately see your company in the search results. Such as "laundry company near me" search question.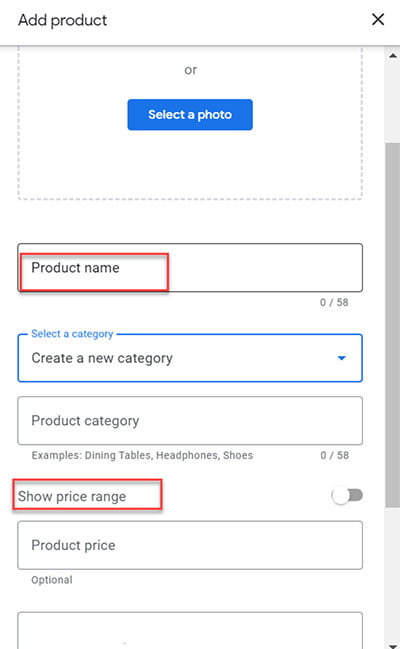 By producing things, you can enter the name of the products, the price range, the classification, and the product description, allowing you to use more key phrases in your niche and provide more relevant knowledge to Google for indexing, and ultimately, for ranking factors, allowing you to rank higher in local search results.
#7: Create Posts for Google My Business
We all know that creating high-quality content is a certain way to improve your search engine rankings on a variety of platforms. It is well-liked by Google, YouTube, Instagram, and, most significantly, by its users as well.
It is now time to create content for Google My Business and boost Local SEO with ranking higher in local searches.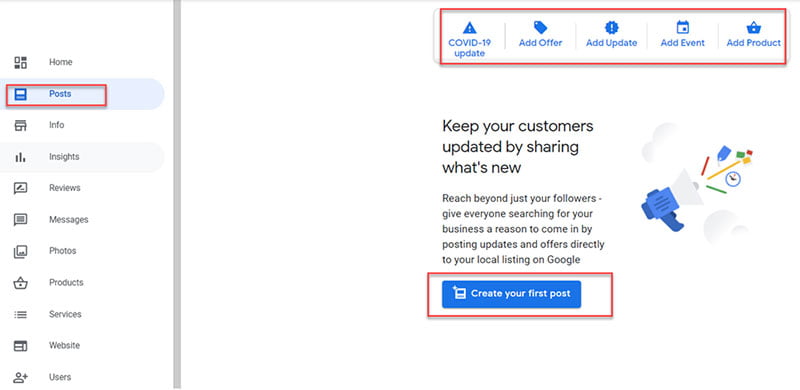 Following the selection of Create Your First Post, you may create your update, event, or offer as you would on other social networking sites.
Using Google My Business postings is something that Google itself encourages, and it is a relatively new tool. According to Google, if you post on Google My Business regularly, provide updates, and upload high-quality photos or videos, these actions will show to Google that you care about your business and customers. Because you are quite active in the eyes of the search engine, which will hopefully affect local SEO ranking factors.
#8: Enable direct messaging on Google My Business.
If you want to go one step further in terms of interaction, why not turn on messaging on Google My Business? This will immensely affect your customer satisfaction and local SEO results.
People will view your response time in Google Maps listings and Google searches since you will have a message button in both places. And it is huge step for succeeding in local SEO. People near by will have the chance to contact you directly.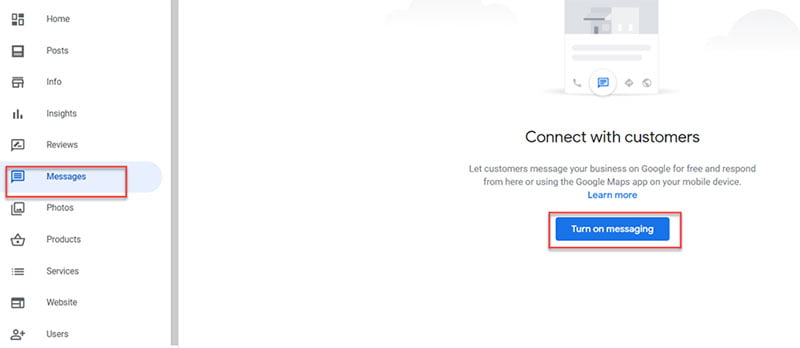 #9: Upload High-Quality Photos
People visited your store or used your service or product will add photos always. Yet, adding some professional photo will reinforce your brand identity.
There are many other types of images that may be: 360-degree views, views from the outside, professional product or menu item shots, team photos, and so on.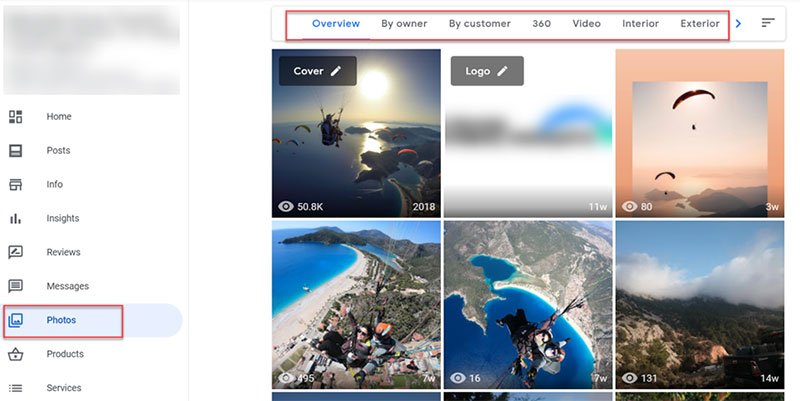 #10: Replying All Reviews
Getting positive reviews (and receiving many of them) is the new W-O-M in e-commerce marketing. However, its significance extends beyond e-commerce websites, and now, each business or small shop, even those that provide services, may benefit from reviews to rank and real sales in order to compete more effectively.
As a result, when someone searches for your company on Google, GMB reviews will pop up — as well as on websites that use the Google Maps API.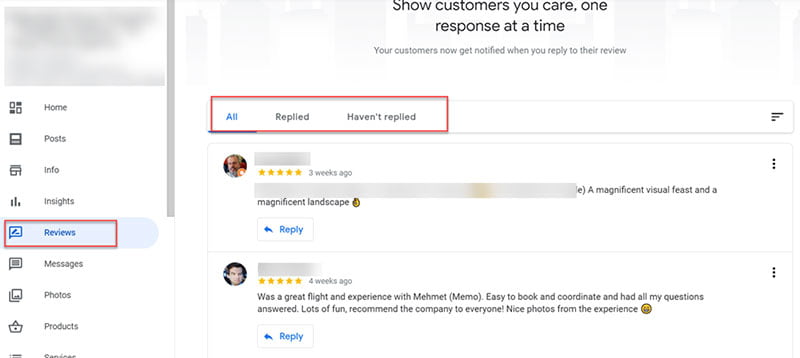 #11: Analyzing Google My Business Insights: Google My Business Optimization
GMB Insights gives you a behind-the-scenes look at how your consumers engage with your Google My Business listings. Google My Business Insights includes a vast quantity of information that you may use to guide you through the rest of the optimization process.
Following are some methods in which customers look for your company:
One of the first data elements GMB Insights gives is information on how people search for your organization. Customers are accessing your listing either a direct search or a discovery search, according to your statistics.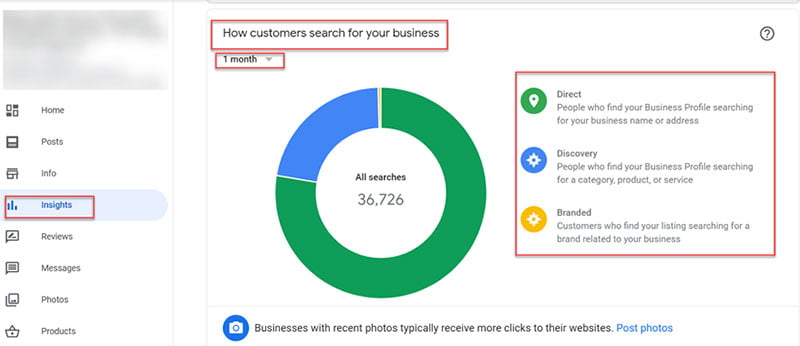 We can see here it whether visitors are interacting with a regular Google search or one that includes a Google Maps query. As we can understand by the enormous volume of traffic to Google Maps, customers are predominantly using their mobile devices to conduct their business. For local smartphone searches, most consumers prefer to use their voice rather than their keyboard or touch screen. If your statistics suggest you are getting a lot of impressions through maps, make sure you have Voice Engine Optimization. These are essential analytical deductions for local SEO strategy planning.
Customer Interaction
The Customer Activities chart depicts a summary of the actions taken by customers on your Google My Business listing. Real interactions that your visitors experienced with your Google My Business page.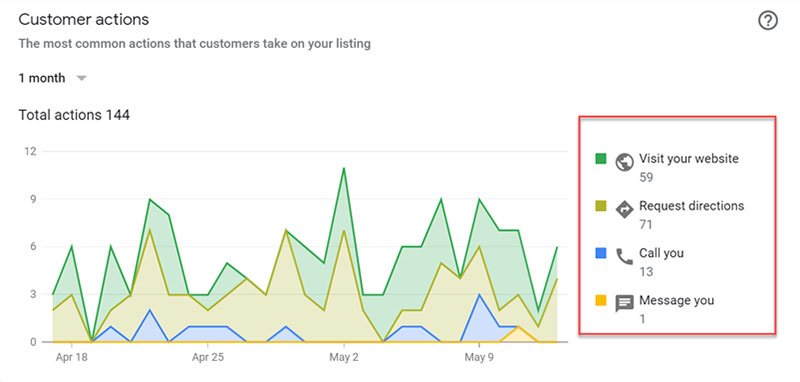 Search Queries
GMB Insights provide information on the terms and search queries that caused your Google My Business listing to appear and how potential customers saw your Local SEO search results.
Look at the top of the page and click on "See new profile performance" to see the results. With keyword strategy, category selections, and even product descriptions, analyzing search queries will be quite beneficial.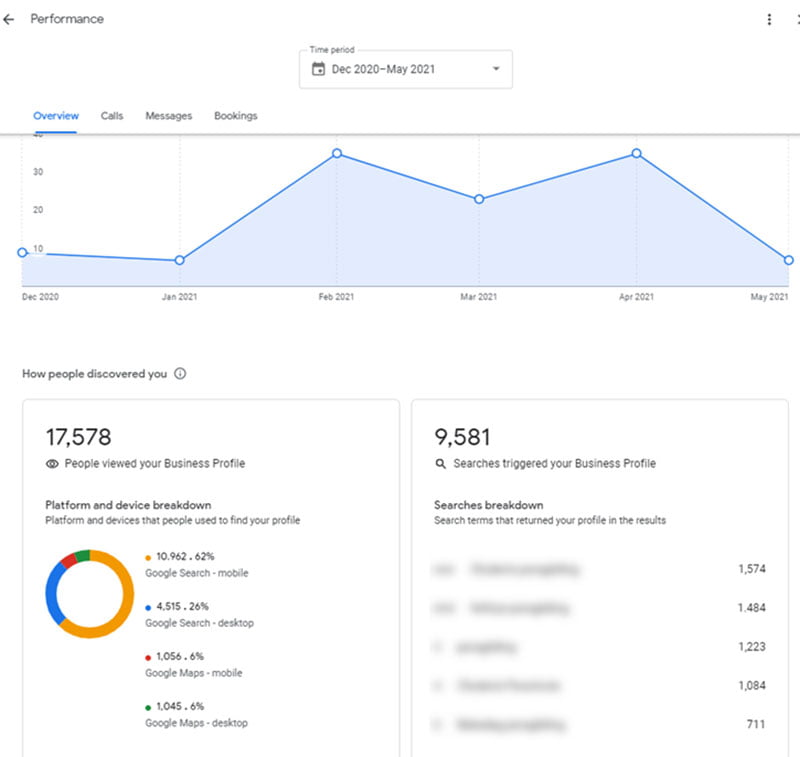 Before you leave…
You should familiarize yourself with Google's guidelines for Google My Business listings so that you know exactly what not to do when attempting to optimize local SEO results. Some of the most critical things to avoid are:
Rather than providing the real URL, you may use a URL that redirects to the URL of your website.
Inexplicably inserting terms into the company's name box is another red flag.
Adding over one local listing for the same company is unethical.
If you want to approach clients for your business, you can use any address that is not an actual shopfront or office space.