Most SEO criteria that apply to a variety of SMEs also apply to restaurants and cafes, but we can state that this is an area where local SEO and ranking performance are likely to result in direct sales. This highlights the importance of SEO for delivery services and knowing how to do delivery engine optimization. The major goal of digital marketing was to guarantee that the names of your restaurants and cafes, as well as your web addresses, ranked top on search engines and that your visitor rate increased.
So, how did 2020 turn out?
With the pandemic, the most noticeable shift in social distancing practice – albeit one that happened quickly was to bring every service and product to our front door. Choosing a delivery service for even the most basic food shopping items is no longer absurd or a waste of time.
The availability of food delivery services sparked fierce competition among food delivery companies (variants such as offering grocery shopping services, pickup, or curbside services) and created an SEO need for restaurants within their domain, especially during periods when socialization was at an all-time low.
If you say, "Give me some proofs," what exactly do you mean? Sure!
We expect the Online Food Delivery industry to earn €134,179 million in sales in 2021, according to Statista. By 2024, sales will have risen at a 6.36 percent annual pace, with a market value of €161,454 million.
With an estimated market volume of €70,494 million in 2021, Platform-to-Consumer Delivery is the industry's largest segment.
Over the previous five years, revenue in the US market has increased by 204 percent thanks to introducing platform-to-customer platforms like DoorDash, Uber Eats, and Postmates, which can provide a wider selection of restaurants and culinary varieties.
How to start SEO for Delivery Services? SEO Tips for Restaurants?
The new question on everyone's mind is: how will you make a difference in a digital ecosystem, rather than just your neighborhood, where there are so many foods delivery and takeaway services?
We can't dispute that Covid-19 ushered in a new age of "survival of the fittest" among small businesses. And we can see that those who adapt to changes in restaurants and food companies, those who are listed in the percentages of the above-described figures, have survived and even take substantial parts of the sales pie.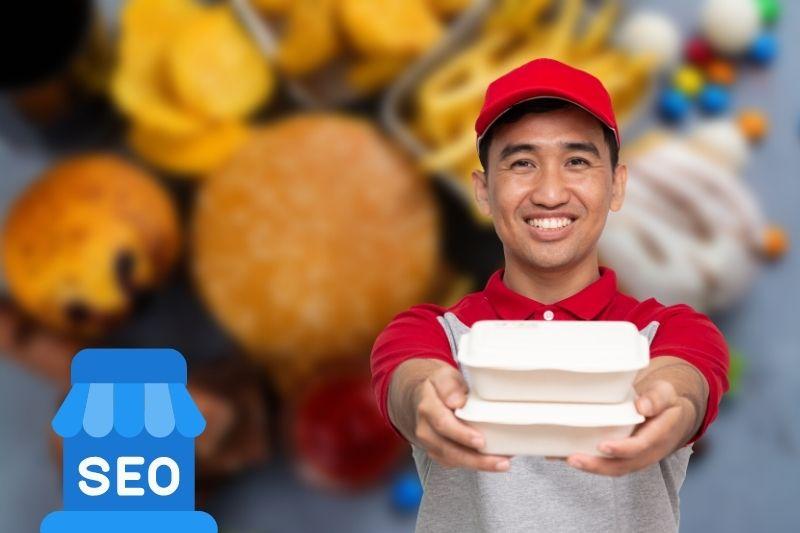 On-Page SEO for Delivery Services:
If you have a website, it must fulfill the basic SEO standards for exposure, whether it's a platform for taking food orders or an HTML page. Let's have a look at them right now.
A sitemap:
Thanks to sitemaps, search engines can simply identify your material, scan your pages, and add it to their index.
Hundreds of resources are available to help you create a sitemap. It's sufficient to simply Google Sitemap Creator and see what comes up.
Managing the Robots.txt file
The existence of this file is critical for search engines and your website. You can tell search engines where they can and can't go by telling them where they can and can't go. Assume that you don't want any directories or pages examined. They can then send the search engine crawlers in this direction.
Keyword Researching
We may carry the process of keyword research out on a variety of platforms and in a variety of methods. Our #1 objective is to create major keyword goals. Every blog post, article, and website we create has a specific goal in mind.
In the Ahrefs and SemRush apps, you'll be able to examine your linked keywords, their search volumes, and competitiveness.
Recognizing The Search Intent
The aim of the user's journey is the second item we must remember. Read the top pages of the search engine results for the phrase you want to rank for.
What do consumers want to do?
Will they be able to find what they require?
Look at the similar searches shown at the bottom of the Google search page to get an idea.
Improve the click-through rate through stronger titles and descriptions, as well as more creative keyword use.
While everybody may make titles and descriptions, not everyone considers how to make effective titles and descriptions. Selecting popular themes and utilizing polite and amusing language, for example, might be beneficial for an e-commerce meal delivery service.
The CTR will rise if you employ engaging messaging instead of ordinary titles and call-to-actions. If the CTR improves, the ranking will improve as well.
Making SEO-Friendly Product Photographs
To rank top in user searches, especially visual searches, the product photographs you submit to your site should follow SEO principles. Include "alt-tag, title, and description" visual tags when adding photographs to your page.
Local Search Engine Optimization: Local SEO for Delivery Services
The importance of local listings in SEO for Delivery Services cannot be overstated. They are an online listing or profile of a business that includes information such as the company's name, address, phone number, email address, website URL, social network accounts, definition, photographs, accreditations, payment options, and so on.
Users like organizations who create Google business listings because they project a more trustworthy and efficient image.
Because Google Maps and Google Searches offer data such as address details, maps, telephone, email, web address, and directions, it will be easy for potential clients to find the firm.
It is now feasible to publish material in the same way that other social media networks allow.
These posts may be photographs with descriptions, or you can use post categories like: Covid-19 update, Offer, Product Post, Service Post, and include a call-to-action button like book now, call, or buy to increase conversions.
It would be best if you listened to what customers and guests had to say and took action to improve service quality and turn an awful experience into a good one by keeping track of reviews and responding to them.
Businesses can provide visitors with accurate information by uploading photographs of the location and objects. They give more instructions to businesses that have photos on Google Maps.
Yandex maps are also important, based on your community. Using Google Maps and Yandex Navigation to pin your location and filling up all the data on these property pages can help you rank better in local search results.
Don't forget to keep essential information up to date, such as operating hours and food delivery circumstances, and to respond to any queries that have been posed.
Mobile Experience
People still use laptops and desktop PCs to browse, but mobile devices are generating more traffic. If you hire someone else to build or improve your site, make sure the design is "responsive," which means the information on each page adjusts to the size of the visitor's device, such as tablets or smartphones. This responsiveness feature also includes the sizes and compression of your graphics.
Using Social Media As SEO For Delivery Services
SMBs and major firms both use social media, but what are the most significant channels for the food industry?
We can argue that Instagram is the most popular social media platform. With its visuality and utilization of stories, we may conclude that Instagram is the most frequent media for reaching more people rapidly. Then there's Facebook, Pinterest, and other sites like Yelp and Tripadvisor, which we discussed before.
So, how should a company handle its social media to boost SEO for delivery services?
Visuals are really crucial. Using high-resolution photographs and particular template styles, such as those used by many influencers, will help you attract attention.
On the other hand, you may, for example, make color blocks on your Instagram feed. Making every third post about a recipe with a similar template and the next post about your menu item with a discount on a white backdrop will make your profile page aesthetically pleasant at first sight.
Canva and Crello, for example, are picture and video editing tools with a lot of freemium models. Your main point should be stories. For stories, discounts, freebies, links to a website or blog, discount code referrals, and daily fresh food videos are essential.
Pinterest, on the other hand, may feed Instagram (i.e., it will have referral links) and be converted into a medium that will help you build a fan base with photographs, particularly recipe postings.
Restaurant Reviews to Use in SEO For Delivery Services:
Your presence on food-specific review channels like Zomato, OpenTable, or platforms like Tripadvisor and Yelp, which many people, whether tourists or locals, would look at when picking a new restaurant or ordering food, is critical.
And, just as keywords and related long-tail phrases influence search results on a website, it's simple to populate your info sections with relevant keywords (such as Mexican food, pizza delivery, and take-out options) and regularly update information about the scope of your delivery services on these platforms.
The reviews and your overall score are, of course, the most important aspects of these sites. As the quantity of reviews grows, you will demonstrate that you are favored. However, if you have few comments, a low score will affect your total score, however with more comments, the changes in your score would be minor. Don't be too hard on yourself if you get a poor rating; keep up the excellent job!
As a result, you may politely request that any consumers you meet in person provide a review. There's no reason to be ashamed!
With modest goodies and brief messages, tell both restaurant and food delivery customers how important reviews are and how grateful you will be if they take the time! Of course, if you're honest, they'll be sincere as well.
Food Blogs as Traffic Source for Delivery Services
Many businesses use blog sites as part of their digital marketing efforts. You might wonder why.
Blogs allow you to educate your clients while also demonstrating that you are dedicated to your business.
Blogs attract more visitors and improve your site's search ranking quality scores – provided, of course, that you publish good material rather than clickbait; otherwise, your bounce rate will rise, and things will get worse.
Blogs will also help you improve your affiliate marketing and backlinking content.
You may use your blogs as a local SEO tool. You may, for example, make long-tail keywords by combining the names of your neighborhood or city with the things you sell. To locate these terms, such as the finest Houston pizza delivery, check at search volumes from a source like Google Trends.
What May The Blog's Content Be?
Catering company websites often have an introduction, a list of products and services, a main page slider, and a communication area.
However, by viewing your firm as a growing and dynamic entity, you may publish recipes for the meals you sell, collaborate with local grocery stores, launch new campaigns, add new goods to your menu, or write articles outlining what you do as a business. Trending and relevant subjects will, of course, help you out.
Why Is SEO For Delivery Services On-Demand?
Because of a shift in the social distance and a growth in e-commerce habits for nearly everything, companies that provide delivery services are fighting to reach as many clients as possible.
You must boost your presence on search engine result pages, or SERPs, to do so successfully. All of the associated approaches and guidelines described above apply to SEO for Delivery Services. Using the most effective SEO for Delivery Services on the platforms where you are active will help you enhance your ranking, exposure, positive reviews, and sales.